In its monthly report, the FAO notes that the average global food prices fell again in May. But some products such as meat and cereals continued to rise.
Global food prices fell in May for the second month in a row, after hitting a record high in March, although cereals and meat saw their costs rise, the UN food agency said on Friday. .
The UN Food and Agriculture Organization's (FAO) food price index, which tracks the world's most traded food commodities, averaged 157.4 points in May , compared to 158.3 in April.
Falling vegetable oil prices
The FAO Vegetable Oil Price Index fell 3.5% from April, but remained well above its level a year earlier. Prices fell for palm, sunflower, soybean and rapeseed oils, partly due to the lifting of Indonesia's short-lived export ban on palm oil and the Weak global import demand for soybean and rapeseed oils given high costs in recent months.
Despite the monthly decline, May's index was still 22.8% higher than a year earlier, pushed up in part by concerns about the impact of the Russian invasion of Ukraine.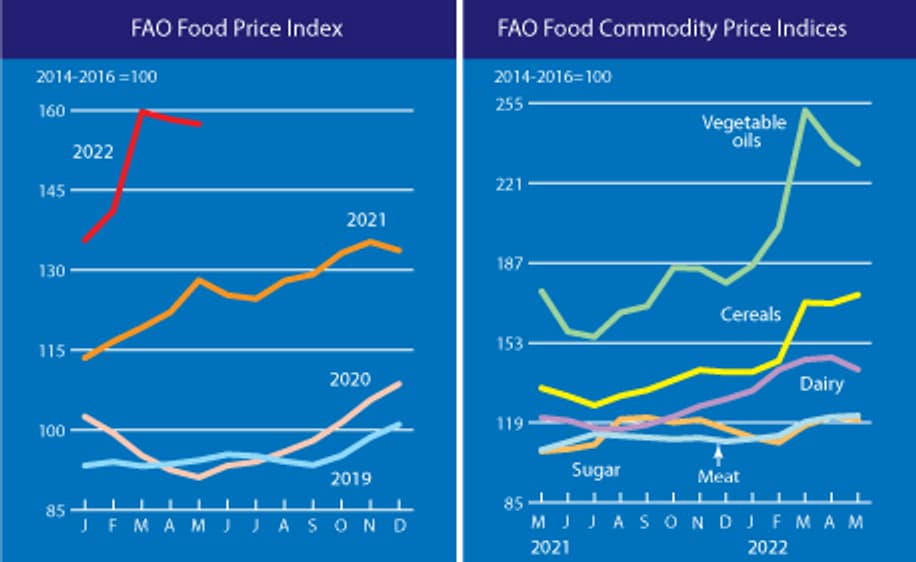 Declining world cereal production
Global cereal production is expected to continue to decline in the 2022/23 season for the first time in four years, falling by 16 million tonnes, to 2.784 billion tonnes, according to FAO estimates.
"Export restrictions create uncertainty in the market and can lead to price spikes and increased price volatility," said Máximo Torero Cullen, FAO Chief Economist. it's important to remove them and let the exports go smoothly."
Meat prices at historically high levels
While the price indices for dairy products, sugar and vegetable oils all fell last month, those for meat and cereals rose to record highs and a 2.2% rise respectively.
The wheat index follows the same dynamic, posting a gain of 5.6% in May and an annual increase in its prices of 56.2%, due to India's announcement of an export ban. , as well as reduced production prospects in Ukraine following the Russian invasion, FAO said.